Casey Eberhart wants to sing Twisted Sister 3 times today?
By
Casey
on April 19, 2011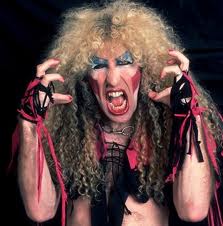 Hey Gang~~  So I woke up this morning with the song "I wanna Rock!" by Twisted Sister in my head!  Perhaps it because I had such an awesome day yesterday? Perhaps it was because I am perpetually stuck in the 80's? Perhaps it is because I long to be a member of one of the biggest "Hair Bands" of modern day?  Whatever the reason, it is the song of the day.  After reading the quote of the day and especially the action item, I would love to know the song you are willing to sing 3 times today.  It can be anything! Heck, even if you have the inner urge to hum a few bars of the opening to The Price Is Right, I WANNA KNOW! 😉  Please leave your comments and include your song! Give the folks at home some crazy ideas.  Hint: If you are an artist, maybe let us know a little about you!  Again, please feel free to leave some song ideas.
"I don't sing because I'm happy; I'm happy because I sing."
Psychologist, William James
Your action for today is to pick a song you love and sing it at least three times during the day.
Give someone an AWESOME day and let them here you sing!!!